Europe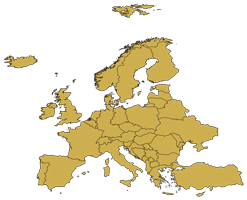 The European energy industry has seen huge change as the EU has liberalised electricity and gas markets, and developed emissions trading. Whilst competition is becoming well established across most of the continent, key challenges remain in enabling effective third party access, trading, and retail market switching in some countries. Climate change mitigation, changing technology, and security of supply are crucial issues in these rapidly changing markets, whilst the EU is pondering the impact of Brexit on its highly-integrated energy systems.
MJMEnergy has been involved in providing consultancy, training and research across Europe since the late 1990s. MJMEnergy's seminal report Liberalising Gas Markets in Europe was the one of the first comprehensive analyses of the prospects for effective gas supply competition across the EU, and since then we have been involved in a wide range of EU energy projects, working for Governments, regulators, power generators, suppliers, transporters, consumers, trade associations and the European Commission.
Energy Projects
Below you will find examples of some of the consultancy, training or publishing work that we have carried out in Europe. If you want to explore how we can help you talk to us.
Consultancy Projects:
The following titles are examples of some of the energy consultancy projects that we have carried out in this region. (Clicking the title will provide more information.)
Drafting of Regulatory Exemption Application for Merchant Interconnector Pipeline

Working for a major merchant interconnector operator in Europe, MJMEnergy drafted a regulatory access proposal with supporting documentation, relating to Article 22 of the EU Gas Directive. MJMEnergy worked to assimilate material provided by the client and supplement it with market analysis, review of competing infrastructure, review of the relevant legislation, and a review of the contractual arrangements.

Working to very tight timescales, we then drafted a full exemption application for the project.

close

Northern Ireland Utility Regulator Network Code Expert

MJMEnergy were engaged as specialist Network Code advisors to the Northern Ireland Authority for Utility Regulation (NIAUR) providing advice on the development of a common energy market.

Areas covered included a review of reports and documents produced by the various players on the Common Arrangements for Gas (CAG) project (a plan to integrate the Northern Ireland and Republic of Ireland gas systems), and assistance in the development of policy, particularly in relation to system operation, supply security and infrastructure investment.

close

Ukraine Gas Restructuring

In conjunction with ECA, MJMEnergy provided consultancy services to Naftogaz and the World Bank for the restructuring of the Ukrainian gas sector.

Mike Madden, Nick White and Chris Le Fevre worked with ECA to assist Ukraine's national gas company Naftogaz in refining its restructuring concept and developing a feasible short and medium-term implementation plan to restructure transmission, storage and distribution businesses. This was aimed towards establishing a competitive gas market, to restore Naftogaz' financial stability and for Ukraine to meet its obligations under the EU 3rd Energy Package.

In particular MJMEnergy provided advice on the operational and commercial aspects of gas infrastructure.

close

North-West Europe Gas Storage Study

A major investment bank approached MJMEnergy with a requirement to understand future market dynamics for North West European storage in a very short timescale as part of a proposed storage acquisition. Due to our existing in-house resource and storage expertise we were able to respond rapidly, and complete the project within four days of the initial request.

This project included two elements: a spreadsheet listing gas storage facilities in NW Europe and a report analysing future market dynamics for the storage market. The spreadsheet listed over 100 proposed or operational storage facilities in Germany, the Netherlands and the UK, and analysed each in terms of operational characteristics and a range of other commercial factors. The report explained the context for gas storage valuation in NW Europe, including long-term and short-term gas pricing and the value of flexibility, and then considered potential impacts in terms of Knowns, Known Unknowns, and Unknown Unknowns.

The report was delivered on time and completed with a teleconference to summarise the findings and explore further questions and issues.

close

Europe Retail LNG Market Study

MJMEnergy provided a European energy major with a competition analysis for the developing retail LNG market in Europe. The study provided an overview of companies actively seeking to develop the LNG market for transportation and offgrid supply, identifying each company's activities, organization and plans in the sector.

The areas covered included road transport and offgrid gas consumers in the Netherlands, Norway, Spain, Sweden and the UK, marine shipping in the Baltic, North Sea and English Channel, and inland waterway transport on the major West European waterways.

close

Support to DESFA

Over an extended period MJMEnergy, in conjunction with CERA, provided Greek gas company, DESFA, with support on implementation of the EU Gas Directives, including reviews of the Network Code and LNG terminal user agreements, regulatory support, and EU liberalisation analysis.

close

Ireland Gas Balancing

MJMEnergy, in conjunction with Deloittes, provided the Republic of Ireland regulator, CER, with advice and support on the development of the gas balancing regime in Ireland, covering the Bord Gais' Code of Operations and balancing penalties.

close

European Commission Competition Enquiry Support

MJMEnergy, in conjunction with Gas Strategies, supported the European Commission in its energy sector competition enquiry.

In particular MJMEnergy was involved in the development and assessment of questionnaires that were sent to all EU gas operators focussing on key issues and barriers in market liberalisation.

close

Europe Off-grid LNG Market Study

MJMEnergy undertook a market study for a major European energy player looking at the companies seeking to develop the LNG market for road transportation and off-grid gas in Belgium, Netherlands, Norway, Spain, Sweden and the UK, as well marine shipping in the Baltic, North Sea and English Channel, and inland waterway transport on the major West European waterways in Belgium and the Netherlands.

The completed project included a final report and workshop reviewing opportunities, risks and competitors for the client.

close

Advice on Application of EU Network Codes to Merchant Pipeline

MJMEnergy advised IUK on the application of EU Network Codes to IUK's UK-Belgium Interconnector business. MJMEnergy consultants commented on drafts of IUK's proposals for implementing EU Network Codes, in particular Congestion Management Principles.

close

UK and Germany Market Entry and Trading Study and Workshop

MJMEnergy provided a new entrant with a UK and Germany gas market entry and trading study and workshop, looking at opportunities, risks and operations in energy trading market, costs and benefits of becoming a gas shipper, and making recommendations for next steps in strategy development, including requirements for UNC Accession.

close

European Storage Investment Opportunities

Working in conjunction with South Court, MJMEnergy provided a ranked project database for an investment firm wishing to enter the European gas storage market. The database included over 50 European gas storage facilities, with rankings reflecting their potential value in changing markets, and recommendations for where investment was l ikely to achieve the greatest return.

close

UK and Italy Gas Transportation Study

MJMEnergy, working in conjunction with Gas Strategies, provided a Japanese utility with a detailed study of gas transportation arrangements under the network codes in the UK and Italy, including the impact of market liberalization and gas tariff structures.

close

Gas Quality Study

MJMEnergy, in conjunction with Gas Strategies, provided IEEJ with a detailed study of gas quality in the USA, the UK, France, Netherlands and Germany, with recommendations for international best practice.

close
Training and Capacity Building:
The following are examples of some of the energy training and capacity building that we have carried out in this region. (Clicking the title will provide more information.)
Energy Markets Training Programme (EMTP)

In 2008 we were asked to build an online training platform for EFET which comprised of 6 training modules and a quiz at the end of each.

The main objective was to provide a training platform which would help their members standardise the Back Office tasks.

Over time additional modules were added and in 2015 we overhauled the entire system to bring content up to date and enable the platform to give the user the opportunity to work through the modules using mobile or desktop, whichever is prefered.

To date over 1300 people have used this system from over 40 companies.

close

EU Gas Markets

This two-day overview explores the EU Gas Markets with teaching sessions, case studies and our gas balancing simulation game.

This two-day course looks at:

Day One:


You will gain an overview the whole EU gas market, examining the infrastructure and supply/demand match. We will explain the principles of liberalisation and together we will explore contracts, pricing, markets, gas transportation and security of supply.

Day Two:


We will spend some time investigating the key European markets, looking at energy trading regulation and discuss the future of gas in Europe and the possible effect the UK's departure from Europe might have on the European gas market.
The next public course date is:

close

EU Electricity Markets

Course Description

Over the two days you will gain a sound understanding of the complexities of the European electricity markets, explore the methods used by different countries across Europe and participate in two different interactive trading and balancing scenarios. You are free to ask questions from the trainers who are both experts in this field and there will be plenty of opportunities for discussion.

Day One:

You will gain an overview of the European electricity market and examine policy and legislation backgrounds. We will also explore together some of the key country markets and actively engage with balancing.

Day Two:

We will provide you with an understanding of the environmental drivers, including the consequences of COP 21, and examine wholesale markets, trading and some of the other key European country markets. You will compete with other delegates in the trading exercise and learn about the future of power generation, markets and demand.
The next public course date is:

close

Emissions Trading Course

This fast paced day will explore the past, present and future of trading emissions and how that may help combat climate change. The course will explain the various acronyms as well as how to trade in this market.

close

LNG Supply Workshop

The LNG supply industry is rapidly developing with new technology, supplies and contractual arrangements. Drawing on MJMEnergy's comprehensive, recently published LNG Supply Handbook, the LNG Supply Outlook Workshop provides an insightful, high-level, summary of LNG supply developments and forecasts from the short-term to 2035.

This half-day workshop will cover the following, although you may request variations:

LNG today
Current and future trends in LNG supply
LNG demand outlook
Key country profiles and forecasts
World LNG supply outlook

close

Energy Markets Course

This three day course provides a thorough understanding of the dynamics of the gas and power industry. The main focus being: physical gas and electricity systems, commercial energy markets and energy trading.

close

LNG Economics and Markets

Understanding the costs and value of LNG is crucial to optimising LNG operations and purchasing in changing markets. This three-day course offers helpful insight, useful case studies and practical exercises.

Day 1: An introduction to the LNG business and economics.

Day 2: Making and delivering LNG: costs and projects.

Day 3: Extracting value: regasification, the long-term and short-term markets.

close

Global LNG

During the course of the day we will study US, European and Asian pricing methodology, and take a look at traditional pricing structures and shifting trends. The expansion of LNG interest and the evolution of LNG pricing worldwide is explained with a look at the future prospects.
The next public course date is:

close

Development of Network Code Course

MJMEnergy delivered a bespoke in-house course for a European transporter on the development of the GB Network Code from its origins in 1996 to the Uniform Network Code in 2005 and beyond. The aim was to assist the transporter in developing its own network code, exploring how changing market requirements, regulation and corporate structure in the GB gas market impacted on Network Code development and utilisation.

close

21st Century Regulation

Course Description

This three-day course has been specifically developed in order to explain both the background and practice of gas market regulation as well as providing suitable tools and intellectual and practical frameworks for parties involved in 21st Century gas regulation.

Understanding and applying regulation to gas markets is a crucial skill as energy market liberalisation gathers pace around the world.

Day One:

The purpose of this first day is to provide you with a solid academic theoretical and historical basis to energy market regulation, drawing on the experience of European and North American energy markets in particular.

Day Two:

The purpose of this second day, building on regulatory economic theory, is to provide a series of practical examples of how regulation is undertaken in the real world. This will be achieved firstly with a series of sessions on specific regulatory issues followed by a number of case studies.

Day Three:

The purpose of this third day is to build on both economic theory and practical application in order to provide you with useful tools and approaches that you can apply to your own particular regulatory environment, whether you are a regulator, the regulated, or a participant in a regulated market.

close

Ofgem Gas Technical Basics/Advanced

We designed a Gas Basic and Gas Advanced course for Ofgem to provide a greater understanding of the operation of the gas supply system for their non-engineers as well as perspectives on commercial gas issues.

An extensive handbook to go with each course and a precourse online questionnaire to help staff know which level they required was also provided.

close

Gas Storage Course

We will explain the need to store gas and look at the different types of storage facilities available. You will gain an understanding of how to buy storage capacity, trade gas using storage, and the whole economics of gas storage. You will look at how to build storage, examine a case study and explore the future of storage.

The course covers:

Why store gas?
Types of gas storage facilities
How storage is sold
Storage economics
Building gas storage
A case study of a current storage project
The future of gas storage

close

The IGEM Academy

Over the last few years MJMEnergy has worked closely with IGEM to prepare and deliver technical training for engineers, both in the UK and overseas. Typical examples have included the following:

Introduction to the UK gas industry and its market.
Asset integrity management.
TGas market safety, legislation and regulation.
Engineering ethics – doing the right thing.
Safety, risk & reliability management.

close

Training Games, Exercises and Simulations

Designed to introduce you to real-life circumstances in which you can make successful choices based on learnt skills, our games and exercises cover a wide variety of areas. For more advanced experiences we have developed exercises that set the scene with realistic management and technical information enabling players to engage with the subject in a serious yet safe environment.

close

Global Oil Market

You will learn about the charactaristics of oil, how the terms upstream, midstream and downstream relate to this industry, what makes the price of oil and how it is traded.

close
Energy Publishing:
The following titles are examples of energy reports that we have written, published or sell and are included to complement this section. Feel free to click on the titles for more information.
LNG in Transportation

LNG in Transportation

This report explores the role of LNG in marine, road and rail transport and is divided into three parts:
1) Technology and drivers for LNG as a transport fuel.
2) Growth projections for LNG as a transport fuel.
3) Data on LNG as a transport fuel.

close

A Lot of Hot Air? To What Extent Could Gas Lose Ground in the Heating Market in Europe

MJMEnergy researched and wrote this analysis paper for Cedigaz, exploring the role of gas in the heating market in Europe, and considering the potential for replacement by alternative heat sources, including heat networks and heat pumps.

The study included detailed analysis of the current market, changing demographics, technological and political developments, and market development, with case studies and forecasts to 2050 for the UK, France, Germany, Poland and the Netherlands.

close

Liberalising Gas Markets in Europe

In this ground-breaking report published by Petroleum Economist, Mike Madden and Nick White reviewed the state of the gas market in each of the then 15 EU states and considered the impact of the EU Gas Directive on companies, markets and suppliers.

close

The Gas Trading Manual

Edited by MJMEnergy associate David Long, with Geoff Moore and Gay Wenban Smith, the Gas Trading Manual (GTM) established itself as a leading information source on the international gas market. Compiled from the contributions of some of the most senior and widely respected figures in the trade, this edition provided detailed and accurate analysis on all aspects of this complex business from the geography of gas through to the markets, trading instruments, contracts, gas pricing, accounting and taxation.

close

The Oil Trading Manual

Edited by MJMEnergy associate David Long, the Oil Trading Manual (OTM) provided a unique and comprehensive reference source to the structure and conduct of the international oil markets including:

Physical characteristics and refining
Oil pricing arrangements
Physical oil markets
Forward and futures contracts
Options and swaps
Operations and logistics
Accounting and taxation
Controlling financial risk
Legal and regulatory control

close

Gas and Electricity Trading in Italy

Written by Nick White and Philip Pike for the Energy Publishing Network, this report provided a detailed overview of gas and electricity markets, players, strategies and trading in Italy in the early years of the energy market liberalisation.

close

Underground Gas Storage and LNG Storage Market in the World

"The Underground Gas Storage & LNG Storage Market in the World 2015-2035" builds on the CEDIGAZ Underground Gas Storage Database, the only worldwide Underground Gas Storage database to be updated every year, and on the CEDIGAZ LNG Service, a comprehensive service dedicated to the LNG market.

This report is divided into three parts:

Part one: - analyses current and future trends in the storage market to 2035 (UGS and LNG storage).

Part two: - is specifically dedicated to the EU UGS market. The analysis reviews key economic and regulatory factors that are reshaping the EU market.

Part three: - includes in-depth analyses for 49 countries worldwide.

close
Key staff and associates:
Mike Madden
Chris Le Fevre
David Long
Nick White
Duncan Jack
Jeremy Bending
Roy Dinsmore