Providing a Broad Mix of Capacity Building and Training
The energy industry is changing rapidly with developing technology, alternative energy supplies, developing competitive markets, changing regulatory and corporate structures. Ensuring that commercial, technical and regulatory staff have the understanding, skills, experience and confidence to operate effectively in this changing industry is a key issue for the success of energy companies, industry, regulators and government.
MJMEnergy provides a broad mix of capacity building and training, including bespoke in-house training and workshops, interactive energy games and business simulations, public courses, training needs assessments and development of capacity building plans, and speaking at conferences and seminars. We cover the whole range of gas, electricity, oil, LNG and emissions markets from regulatory, commercial and technical perspectives.
Prepared Courses:
The following titles are our current list of prepared courses. Some of these are available at our place (public courses), all of them are available at your place (in-house courses). (Clicking the title will provide more information.)
UK Gas Markets

As well as explaining the whole UK 'world of gas', this one-day course will also look at coping with the un-predictables, like the weather, future consumption patterns and the imperative of trading in gas supplies and explaining how these factors form the NBP prices.

This one-day course looks at:

The Physical Gas Market
Market Fundamentals & Price Behaviour
Overview of the Commercial Gas Market
The Gas Balancing Game
Instruments & Trading Strategies
The Future of Gas


The next public course date is: close

EU Gas Markets

This two-day overview explores the EU Gas Markets with teaching sessions, case studies and our gas balancing simulation game.

This two-day course looks at:

Day One:


You will gain an overview the whole EU gas market, examining the infrastructure and supply/demand match. We will explain the principles of liberalisation and together we will explore contracts, pricing, markets, gas transportation and security of supply.

Day Two:


We will spend some time investigating the key European markets, looking at energy trading regulation and discuss the future of gas in Europe and the possible effect the UK's departure from Europe might have on the European gas market.
The next public course date is:

close

UK Electricity Markets

During the course of the day we will give you an introduction to the electricity market and explain what the physical and commercial market is. You will try your hand at trading in our Electricity Balancing Game before learning about how electricity interacts with the environment and how the market may develop beyond the next five years.
The next public course date is:

close

EU Electricity Markets

Course Description

Over the two days you will gain a sound understanding of the complexities of the European electricity markets, explore the methods used by different countries across Europe and participate in two different interactive trading and balancing scenarios. You are free to ask questions from the trainers who are both experts in this field and there will be plenty of opportunities for discussion.

Day One:

You will gain an overview of the European electricity market and examine policy and legislation backgrounds. We will also explore together some of the key country markets and actively engage with balancing.

Day Two:

We will provide you with an understanding of the environmental drivers, including the consequences of COP 21, and examine wholesale markets, trading and some of the other key European country markets. You will compete with other delegates in the trading exercise and learn about the future of power generation, markets and demand.
The next public course date is:

close

Global LNG

During the course of the day we will study US, European and Asian pricing methodology, and take a look at traditional pricing structures and shifting trends. The expansion of LNG interest and the evolution of LNG pricing worldwide is explained with a look at the future prospects.
The next public course date is:

close

LNG Economics and Markets

Understanding the costs and value of LNG is crucial to optimising LNG operations and purchasing in changing markets. This three-day course offers helpful insight, useful case studies and practical exercises.

Day 1: An introduction to the LNG business and economics.

Day 2: Making and delivering LNG: costs and projects.

Day 3: Extracting value: regasification, the long-term and short-term markets.

close

Energy Markets Course

This three day course provides a thorough understanding of the dynamics of the gas and power industry. The main focus being: physical gas and electricity systems, commercial energy markets and energy trading.

close

Emissions Trading Course

This fast paced day will explore the past, present and future of trading emissions and how that may help combat climate change. The course will explain the various acronyms as well as how to trade in this market.

close

Uniform Network Code Course

The day starts with an introduction to the Uniform Network Code (UNC), building on that with a detailed look at entry capacity and exit capacity, the UNC modification process, energy balancing and system security, rounding off with the customer interface.

This one-day course explores:

Introduction to the Network Code
Entry Capacity of Gas
Exit Capacity of Gas
The Network Code Modification Process
Energy Balancing and System Security
The Customer Interface


The next public course date is: close

Gas Storage Course

We will explain the need to store gas and look at the different types of storage facilities available. You will gain an understanding of how to buy storage capacity, trade gas using storage, and the whole economics of gas storage. You will look at how to build storage, examine a case study and explore the future of storage.

The course covers:

Why store gas?
Types of gas storage facilities
How storage is sold
Storage economics
Building gas storage
A case study of a current storage project
The future of gas storage

close

UK Energy Market Essentials

If you are new to the energy industry, this course will equip you to understand the unique features of energy supply within, out of, and back into the UK. It will give you a vital take on the drivers of energy prices, and the effect our capricious weather has on electricity and gas demand. It will help you to both work out how your own job is influenced by the whole world of energy, and to gaze into the future of where our heat and light might come from when we have retired!

The course covers:

Physical gas markets
Physical electricity market
UK energy players
Commercial energy market overview
Future energy
The Gas Trading Game

close

UK Energy Market Futures

The course will equip all those needing their own take on the UK energy market with the ingredients to assess likely future scenarios up to 20 years ahead. It features a helicopter view of the current market, known planning success stories, clean energy solutions and other energy-critical subjects. It will help debate the question, "is the future electric?" and look into the shape and challenges of future markets.

The course covers:

Reasons for change and policy interventions
The Carbon Counter Game
Pathways - all hail electrification!
Decarbonisating energy
The hydrocarbon bridge - how we are doing?
My 2050 role play
What's in the News?

close

UK Gas Hedging and Optimisation

Course Description

During this day you will gain an understanding of the complexities of trading gas in the UK. We will explain the concepts and then let you enjoy the consequences of your decisions as you attempt to balance your supply and demand position in our Gas Trading Game. Warning, this is not for the faint hearted!

Course Content

UK Gas Market Principles, Processes and Regulation
UK Gas Supply & Demand Overview & Trends
UK Gas Market Structure, Instruments & Price Behaviour
What are options?
Gas Market Risks
Gas Trading Game

close

Global Oil Market

You will learn about the charactaristics of oil, how the terms upstream, midstream and downstream relate to this industry, what makes the price of oil and how it is traded.

close

21st Century Regulation

Course Description

This three-day course has been specifically developed in order to explain both the background and practice of gas market regulation as well as providing suitable tools and intellectual and practical frameworks for parties involved in 21st Century gas regulation.

Understanding and applying regulation to gas markets is a crucial skill as energy market liberalisation gathers pace around the world.

Day One:

The purpose of this first day is to provide you with a solid academic theoretical and historical basis to energy market regulation, drawing on the experience of European and North American energy markets in particular.

Day Two:

The purpose of this second day, building on regulatory economic theory, is to provide a series of practical examples of how regulation is undertaken in the real world. This will be achieved firstly with a series of sessions on specific regulatory issues followed by a number of case studies.

Day Three:

The purpose of this third day is to build on both economic theory and practical application in order to provide you with useful tools and approaches that you can apply to your own particular regulatory environment, whether you are a regulator, the regulated, or a participant in a regulated market.

close
Specific Capacity Building:
The following list are examples of some of the capacity building and training that we have written and provided specifically for some of our clients in the UK as well as around the world. (Clicking the title will provide more information.)
LNG Supply Workshop

The LNG supply industry is rapidly developing with new technology, supplies and contractual arrangements. Drawing on MJMEnergy's comprehensive, recently published LNG Supply Handbook, the LNG Supply Outlook Workshop provides an insightful, high-level, summary of LNG supply developments and forecasts from the short-term to 2035.

This half-day workshop will cover the following, although you may request variations:

LNG today
Current and future trends in LNG supply
LNG demand outlook
Key country profiles and forecasts
World LNG supply outlook

close

Development of Network Code Course

MJMEnergy delivered a bespoke in-house course for a European transporter on the development of the GB Network Code from its origins in 1996 to the Uniform Network Code in 2005 and beyond. The aim was to assist the transporter in developing its own network code, exploring how changing market requirements, regulation and corporate structure in the GB gas market impacted on Network Code development and utilisation.

close

CREG Open Season Training

MJMEnergy provided Colombian energy regulator, CREG, with a bespoke training seminar on Open Seasons and their application to the construction of gas pipelines. The training included explanation of the concepts of Open Season and a review of their use in different jurisdictions around the world as well as recommendations for Colombia.

close

Ofgem Gas Technical Basics/Advanced

We designed a Gas Basic and Gas Advanced course for Ofgem to provide a greater understanding of the operation of the gas supply system for their non-engineers as well as perspectives on commercial gas issues.

An extensive handbook to go with each course and a precourse online questionnaire to help staff know which level they required was also provided.

close

Hong Kong gas technical capacity building for Towngas

Towngas Hong Kong required a training programme to increase its understanding of the latest developments and practices in the UK and worldwide gas industry. MJMEnergy, in conjunction with IGEM, designed and prepared a three day training course for this purpose.

close

Bangladesh gas transmission capacity building for GTCL

In conjunction with PPA Energy, MJMEnergy provided a technical and commercial training program that worked with senior managers and executives in gas transmission, operation, maintenance and safety. Key areas covered included:

Maintaining gas networks (schedules, standards and staffing)
Operating gas networks (Daily operations, pipelines, safety etc.)
Commercial operations (GTA, Network Codes, contracts and tariffs)

close

Influencing Commercial Outcomes

Centrica's leadership development programme required a bespoke Influencing Commercial Outcomes course.

Over three-days we provided hands-on negotiation and market simulations as well as expert seminars on key issues of relevance.

close

The IGEM Academy

Over the last few years MJMEnergy has worked closely with IGEM to prepare and deliver technical training for engineers, both in the UK and overseas. Typical examples have included the following:

Introduction to the UK gas industry and its market.
Asset integrity management.
TGas market safety, legislation and regulation.
Engineering ethics – doing the right thing.
Safety, risk & reliability management.

close

Cambodia Energy Security Seminar

MJMEnergy prepared a series of training seminars, which were delivered at the Asean Energy Security seminar in Cambodia. The seminars covered several topics including gas market liberalisation, energy balancing, scheduling and tariffs.

close

Training Games, Exercises and Simulations

Designed to introduce you to real-life circumstances in which you can make successful choices based on learnt skills, our games and exercises cover a wide variety of areas. For more advanced experiences we have developed exercises that set the scene with realistic management and technical information enabling players to engage with the subject in a serious yet safe environment.

close
---
Interactive Learning, online:
Recognising that time is precious and it's not always possible or practical to leave your work place for a day or longer, we have been developing an online learning platform. (Clicking the title will provide more information.)
Energy Markets Training Programme (EMTP)

In 2008 we were asked to build an online training platform for EFET which comprised of 6 training modules and a quiz at the end of each.

The main objective was to provide a training platform which would help their members standardise the Back Office tasks.

Over time additional modules were added and in 2015 we overhauled the entire system to bring content up to date and enable the platform to give the user the opportunity to work through the modules using mobile or desktop, whichever is prefered.

To date over 1300 people have used this system from over 40 companies.

close

Introduction to LNG

This Global LNG online training course provides a basic introduction to the LNG industry and markets worldwide. It explains the history, transportation, pricing, trading of this fast paced growing industry.

The course is designed to be taken in your own time at your own pace. It is interactive so you need to search around to find all the information, some of which is hidden in hovers or clickable links or images. We would expect this course to take about 2 hours to complete.

This course is currently being updated. Please check back later. If you wish to be notified when it is ready please Contact us.

close
This list will grow over time, but if there is something that you require now then contact us to start a discussion to see how we can help you.
Learning by doing, hands on experience...
Energy Training Games, Exercises and Simulations
Designed to introduce you to real-life circumstances in which you can make successful choices based on learnt skills, our games and exercises cover a wide variety of areas. For more advanced experiences we have developed exercises that set the scene with realistic management and technical information enabling players to engage with the subject in a serious yet safe environment.
Dynamica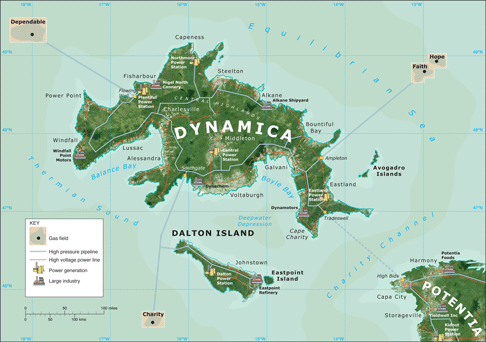 Many of our games and exercises are based in the ficticious province of Dynamica where we can create exactly the right circumstances to focus on your key learning points. By adapting the infrastructure of this fantasy island, just about any situation can be created to effectively communicate and build understanding of the energy industry - or any other business for that matter.
Some companies like to incorporate elements of their personal development programmes to create another valuable dynamic alongside a helpful learning experience.
The variations of games and exercises it is possible to create using this environment are almost limitless. Take the tour to see some of the games that we have developed.
Interactive Games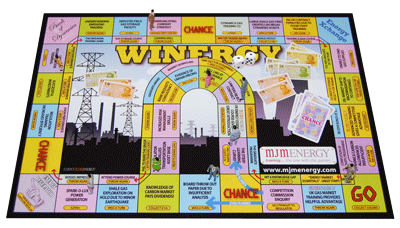 As part of your capacity building experience we enable you to get as close as you can to reality in the form of competitive games that have been designed specifically to cement the knowledge that you have been presented with in the teaching sessions. These are based on the realities of energy prices, weather upsets and even chance cards to represent real life situations.
You may experience an unscheduled shut down of your power station or an earthquake that disrupts your gas supply but you will still be expected to balance your position and maintain supply to your customers.
In order to do this, you will need to work out a strategy or use your teams problem-solving skills.
Everything is presented in a creative format, making it a fun way to experience serious scenarios and learn how to deal with them.